The week ahead
UK political drama rocked the market while the emergence of a distinctly dovish tone from the Fed knocked the USD off its pedestal going into weeks end. The week ahead will be cut short by the Thanksgiving holiday in the US. And while this adds up to less trading days, those fewer hours will be chock-full of political drama. For no other reason than year-end self-preservation, the markets risk profile will continue to drop as political risk continues to permeate virtually every pocket of the globe. As such, traders will be in risk reduction mode suggesting a high level of indifference will creep into the playing field as year-end musings leak into the equation.
While a Fed pause could offer up a temporary relief for equity investors, however, I get more concerned that these early warning signals are a very useful canary in a coal mine suggesting we're quickly approaching an economic slow down which could trigger steeper declines in US equity markets.Fed watchers will take a keener interest in upcoming financial reports to flesh out any indications of a US economic reversal.
Without question, the week will be dominated by Brexit, and with lingering uncertainty over May's ability to put a viable deal into motion, traders cannot rule out a vote of no confidence.
Market banter around US President Trump & Chinese Premier Xi's G20 meeting will ratchet up several decibels this week, but frankly, my sceptical radar is flashing red, as we're unlikely to see concrete progress from the one-on-one talk. Presidents Trumps pep talk on Friday "I think will have a great relationship with China." Furthermore, China would like to make a deal and have sent a list of things its willing to do on trade. While the list is "pretty complete," but four or five things have been left off. Still, the US "may not have to impose further tariffs on China " which firmed the G-10 commodity block of currencies and the EM gamut.
On the US domestic front, USMCA deal or Mueller investigation will likely add a bit of spice to the mix. Trump is not agitated about the Special Counsel. He says he's finished writing his answers to Mueller but hasn't submitted them yet. And look for White House revolving door to starting spinning again as the President is happy with " almost all" of the White House cabinet.
Currency markets 
The USD failed miserably this week, and it's unlikely the market will be soft-hearted on the dollar bulls heading into year-end.
The de-escalation of trade war rhetoric on the back of China offering up trade concessions saw a swift reversal on USD haven hedges in EM Asia, particularly against the  Yuan. But the DXY hit the skids falling from 96.90 towards 96.40 on a speech from Vice Chair Clarida, who in a coordinated fashion and following in the footsteps of Chair Powell's cautious tone from Wednesday, also emphasised global growth concerns. Which, in the market's opinion, effectively walked back one of the more hawkish elements of Fed policy. If the This is far too coordinated as the Fed is telegraphing hesitancy with  Powell, Clarida, Evans and Kaplan raising concerns about 2019. If the Fed does raise interest rates in December, it could be a one and done for a while.
Fanning the dollar demise, both  China and Japan, the two biggest foreign U.S. creditors, cut their U.S. Treasury holdings further in September. If US-China trade war continues to go sideways, its possible could more also reduce US Bond holdings. While I'm keeping a close eye on future developments, at this stage of the game, I suspect this is just prudent policy to effectively acquire USD as part of an intervention smoothing procedure to prevent the Yaun from weakening too quickly as the economy slows which will trigger capital outflow. Given that China foreign-exchange reserves have been declining, this makes sense to ensure reserves stay above the  US 3 trillion mark
(Bloomberg)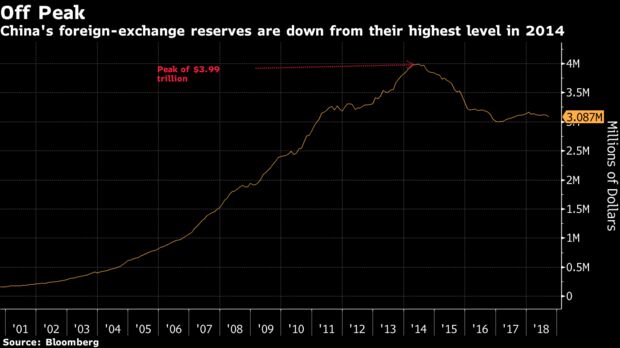 EURUSD rallied to 1.1420/10 on broader USD sentiment as the markets begin to price in more positive expectations for the Italian government's revised budget while the first sign of Fed hesitancy has reduced the odds of a December rate hike and traders will start to price in the reality of a Fed pause in 2019. With the Fed telegraphing  hesitancy we could see the EUR push higher into years end
USDJPY ends the week back below 113.00 on the more widespread USD sentiment in what could be the beginning of a protracted move to 110 overlaid with a lower trajectory for US interest rates and shaky equity markets.
AUDUSD ended the week above 0.7300 after bouncing off decent support at .7175. The strong Australian jobs report coupled with a rallying cry from President Trump on the trade war with China has not only triggered a reversal on China proxy trade but is garnering a lot of attention from A$ bulls as the AUD has been a direct beneficiary of greenback's demise globally. Last weeks beat on the domestic jobs report has an excellent vibe about it.
GBPUSD  ended the week on a slightly positive note as  Brexit developments led to minor recovery for Sterling on Friday, but there is a considerable element of risk this week. The Pound hovered in a 1.2800/80 range over the NY session but remains tentatively bid no dips. But it's unlikely that the markets long sterling position pain threshold will weather another deep dive into the low 1.2700's. So it wouldn't take much more of a spot decline to drive a deeper flush-out in positions and a move below the 52 week low of 1.2662. But in reality, is anyone's guess where Cable settles with Brexiteers reportedly trying to re-write the deal all the while  May's future lies in the balance.
Asia  FX
Trade war detente is picking building momentum but with high expectation come incredible disappointment as the risk-reward appears to be shaded towards a letdown.
But trading activity in the local currency markets has been decidedly mixed with the North Asia underperforming South Asia where carry trades enjoyed a solid week on the back of lower oil prices and monetary policy tightening.
Yuan
Regardless of improving trade war sentiment current account depletion and policy divergence between the Fed and Pboc suggest USDCNH will continue to march higher in the months ahead. Suggesting that dips will keep being favoured even though Jay Powell walked back some of the more hawkish elements of Fed policy. I think the Feds are very much in the data-dependent camp but Feds early warning signals about an economic slowdown in 2019, does bring an element risk behind this view.
Rupee
While the collapse in oil prices has benefited the INR, the long-term path of least resistance remains to skew higher, although near-term view remains exceptionally cautious due to falling oil prices
Ringgit 
Malaysia has come out with a pair of weak Q3 figures: a below-potential GDP figure, and another dip in the current account surplus all of which supports a weaker glide path for the Ringgit in months ahead. Perhaps the only saving grace for the Ringgit could be a large-scale improvement on global risk sentiment which could support a local bond market rally and see an increase in foreign inflow.
Oil in focus 
On the cross-asset front, traders remain keenly focused on support levels into the month end. While Oil prices rose on Friday on hope OPEC and partners, will act to reverse bearish sentiment, but from a technical set up bear mode remains intact with downside WTI target falling between the $52-54 levels. HEDGE FUNDS' ratio of long to short positions in the six major petroleum contracts fell to 3.09:1 on Nov 13, the lowest since July 2017, and down from a recent high of 12.44 on Sep 25.( Reuters)  However, after the third straight day of gains on the back of OPEC indicating that they are considering even more substantial production cuts to counteract fading global demand. And coupled with WTI spreads springing back to life, there's a growing sense that the markets are shifting back into a more neutral tack. I'm in the camp that prices have dropped sufficiently and while the slow down in global demand could dent bullish sentiment. Still, the International Energy Agency suggest global demand will continue to grow at 1.4 million bpd in 2019 (compared to 1.3 million bpd in 2018). But my bullish radar is still waiting for OPEC/+ do deliver a sizeable cut number with a commencement time attached before aggressively jumping back into the fray.
Baker Hughes
Oil rigs +2 to 888 (+150y/y)
Gas rigs -1 to 194
Horz rigs +4 to 939
GoM +1 N Dak unch Penn +1 Texas +3
Oil & Gas by Basin
Permian +1 Eagle Ford +3 Williston unch
Niobrara unch Haynesville unch Utica -2
(From Reuters Global Oil Forum)
Oil, the week that was
The EIA showed crude stocks in the U.S. building by +10.27mm bbls (vs APIs +8.8mm), primarily led by stock increases at the Gulf Coast as runs in the region were lower by -267k bpd w/w. Lower imports could not thwart overall builds as exports were notably lower last week (by -355k bpd). Stocks at Cushing were higher by +1.17mm bbls as the pace of builds at the hub slowed with higher refinery demand helping to thwart increased inflows with Sunrise ramping up.
Gold Market
Spurred on by the weaker dollar, Gold continues to glitter as investors flock to safe-haven assets driven by the uncertainty in the UK and the ongoing US-China trade war. With the Fed taking dovish, this shift could provide a strong underbelly of support for gold prices into year end.
Palladium Market
Palladium hit an all-time high this week as projected Chinese auto industry demand will outstrip supply in what Citigroup Inc. calls "extreme tightness" in supplies. Keep in mind this is all part and parcel to China green policy, and China's new auto emissions standards are likely to boost demand.
Crypto 
Bitcoin Bulls Wonder Where's the Bottom as Volatility Returns
Bitcoin advocates are asking how low will we go from here as the world's largest cryptocurrency continued to slump following its most significant one-day loss in eight months.
The digital token fell as much as 6.3 per cent to $5,202, having plunged through a critical resistance level Wednesday after a period of relative tranquillity. Many of Bitcoin's closest peers also slid Thursday, while Bitcoin Cash, which splits today into two coins, was down as much as 15 per cent.
I remain incredibly bearish on BTC with as the $1000 level looking as likely as $10,000. But this is from a long-standing and unwavering view that regulators and the banking system will continue to push back against the rise of virtual markets, and will undoubtedly burst crypto's ballon as the $5000 cliff edge is approaching fast.
But not too surprisingly chipmakers tanked this week on a probable loss of demand as crypto mining collapses which is sending out warning signal of trouble to come. These stocks act as good proxy exposure into Bitcoin while avoiding the liquidity crunches associated with underlying crypto movements.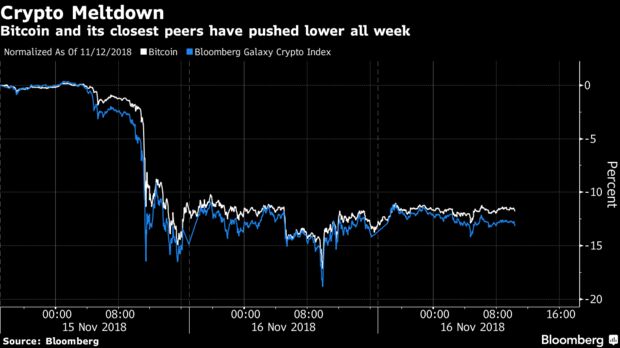 This article is for general information purposes only. It is not investment advice or a solution to buy or sell securities. Opinions are the authors; not necessarily that of OANDA Corporation or any of its affiliates, subsidiaries, officers or directors. Leveraged trading is high risk and not suitable for all. You could lose all of your deposited funds.