Italy might be relying on the hope of a new round of government-bond purchases by the European Central Bank to shield its public debt from financial speculation and the threats of a rating downgrade.
Newspaper La Stampa reported that the government may reach out to the ECB about such a move. The new QE-styled program could have a different name if needed, La Stampa said, citing an unnamed official and providing no further details.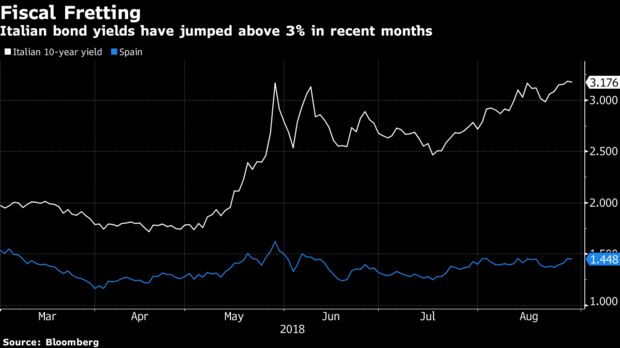 The euro weakened for the first time in four days, slipping 0.2 percent to $1.1678 as of 9:30 a.m. Rome time. Italian bonds rose, pushing 10-year yields down 3 basis points to 3.16 percent as of 10:21 a.m. Rome time.
Futures flat as Canada re-joins NAFTA talks
Trade talks to dictate next dollar move
This article is for general information purposes only. It is not investment advice or a solution to buy or sell securities. Opinions are the authors; not necessarily that of OANDA Corporation or any of its affiliates, subsidiaries, officers or directors. Leveraged trading is high risk and not suitable for all. You could lose all of your deposited funds.